Looking for Auto Service in the Winnemucca Area?
Come to Gallagher Ford for Expert Car Service and Repair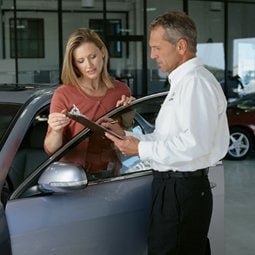 Finding reliable service in the Elko area may have left you preferring to bring in your vehicle as a last resort. We understand that you may have had a negative experience with a mechanic or garage before, but we aim to change your mind about what you've come to expect from service centers. When you bring your vehicle to Gallagher Ford, you will find that routine auto service is not so difficult.
Regular car repairs and service is the best way to keep your car in the best possible condition. However, when all the service specialists you meet either make you wait for too long, overcharge you, or perform sub-par servicing, bringing in your vehicle in for maintenance become difficult.
Some of the ways we avoid the pitfalls of many other repair shops starts with our dedication to our customers. We serve Winnemucca by offering you speedy, precise service at reasonable prices. We want to be your number one choice for car repair and service, so all our interactions with you are straightforward and transparent so that you know what to expect.
Another area where we have an edge over your mechanic down the road is with our cutting-edge service center. By having the ability to service multiple cars at once, we cut down on your wait time. What also reduces your wait time is our advanced machinery and equipment as well as a skilled team of technicians that know how to expertly service and repair your vehicle.
When it comes to servicing or repairing your Ford model, there's no better place to bring it than our location. Our service technicians have been factory-trained to know both the latest and past Ford models. Their knowledge helps cut down on wait times even further while also allowing for a high level of precision and quality. You won't have to worry about a misdiagnosed issue or a sloppy repair when letting our service center help you.
Our service center can accommodate both complex auto repairs as well as routine car service, so you can bring in your vehicle for just about any servicing you need. Some of the most common services we provide include:
Oil Changes
 
Tire Rotations and Alignments
 
Brake Inspections and Repairs
 
Cabin Air Filter Replacements
 
Fluid Checks
 
Heating and Cooling Components
The other advantage to bringing in your vehicle to us is that we offer genuine Ford parts. If you have ever tried replacing a part with a mechanic before, you know that there are a lot of things that can go wrong. The third-party part they order may not fit, it might be poor quality and wear out quickly, or it might take a long time to show up in the mail.
Those issues can be easily avoided when you utilize our inventory of high-quality, authentic Ford parts. You won't have to spend a long time sending back the faulty part or worrying about it not fitting when you allow us to outfit your vehicle with factory-quality parts.
High-Quality New and Used Inventory
If you've also been trying to find a new or used vehicle, then consider our huge inventory. We carry the latest new Ford models as well as a variety of affordable used cars. Whether you're looking to save some money on your next purchase our want all the cutting-edge technology and features, you will be able to find what you're looking for with us.
Come to our location to discover great models like the Ford F-150, Focus, Fusion, Escape, Edge, and F-250. Whatever your driving preference is, you will have the variety and quality you looking for in a dealership.
Allow us to prove our commitment to your satisfaction by scheduling a service appointment today. We can't wait to show you the difference!