Please Call 775-738-3147 
To Schedule Your Service Appointment 
Looking for Auto Service? Come to Gallagher Ford for Expert Car Service and Repair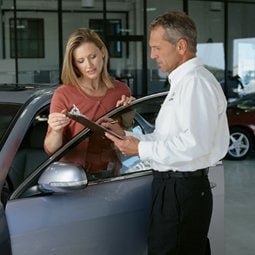 Finding reliable service in the Elko area may have left you preferring to bring in your vehicle as a last resort. We understand that you may have had a negative experience with a mechanic or garage before, but we aim to change your mind about what you've come to expect from service centers. When you bring your vehicle to Gallagher Ford, you will find that routine auto service is not so difficult.
Regular car repairs and service is the best way to keep your car in the best possible condition. However, when all the service specialists you meet either make you wait for too long, overcharge you, or perform sub-par servicing, bringing in your vehicle in for maintenance become difficult.
Our service center can accommodate both complex auto repairs as well as routine car service, so you can bring in your vehicle for just about any servicing you need. Some of the most common services we provide include:
Oil Change
Changing the oil in your car is relatively simple but super important for the performance of your engine. Your engine needs clean motor oil to help it stay lubricated, so frequent oil changes will help maximize its lifespan. Signs that your oil needs to be changed include when an oil service light appears on your dashboard, you smell something burning, or you notice the mileage on your vehicle exceeds the mileage on your last oil change sticker.
Tires, Rotations & Alignment
Seasonal tire rotations and wheel alignments will help preserve your tires and your vehicle's suspension. If you often drive where there is inclement weather, you might benefit from having a second set of tires, particularly snow tires, if your vehicle is front-wheel-drive and low to the ground. Some symptoms of misaligned tires include uneven wear, very little or non-existent tread, and your car vigorously pulling to either side as you drive.
Brakes
Your brakes help keep you in control and allow you to stop safely at a red light. Working in tandem with your tires and suspension, your brakes are an essential operating feature that requires consistent upkeep if you wish to maintain them. Warning signs that your brakes might be failing are hearing loud screeching noises when you stop, a burning smell coming from the tire, and when you feel your brake pedal touch the floor with no resistance.
Air Filter Replacement
As we approach the start of spring and summer, you'll want to make sure your engine air filter and cabin air filters are clean and undamaged. To help keep pollen and other disruptive substances out of your engine's air intake system, new air filters will help improve conditions tremendously. Symptoms of a bad air filter include a low or rough idle and trouble starting your car.
Fluid Checks
Under the hood is where your engine lives and breathes. Surrounded by fluid tanks and reservoirs, your engine bay houses a variety of fluid systems that work to keep your vehicle cool. Check to make sure that your fluid tanks are filled properly and that there aren't any major leaks or damages affecting the system.
Batteries
Diagnosing electrical issues is one of the premier services that we provide for customers at Gallagher Ford. We'll thoroughly inspect your battery and alternator to ensure there's a clean distribution of power throughout your vehicle. Symptoms of a bad battery include weak headlights, dim interior lights, trouble starting the car, or your engine won't turn over at all.
Some of the ways we avoid the pitfalls of many other repair shops starts with our dedication to our customers. We want to be your number one choice for car repair and service, so all our interactions with you are straightforward and transparent so that you know what to expect.
Another area where we have an edge over your mechanic down the road is with our cutting-edge service center. By having the ability to service multiple cars at once, we cut down on your wait time. What also reduces your wait time is our advanced machinery and equipment as well as a skilled team of technicians that know how to expertly service and repair your vehicle.
When it comes to servicing or repairing your Ford model, there's no better place to bring it than our location. Our service technicians have been factory-trained to know both the latest and past Ford models. Their knowledge helps cut down on wait times even further while also allowing for a high level of precision and quality. You won't have to worry about a misdiagnosed issue or a sloppy repair when letting our service center help you.
Those issues can be easily avoided when you utilize our inventory of high-quality, authentic Ford parts. You won't have to spend a long time sending back the faulty part or worrying about it not fitting when you allow us to outfit your vehicle with factory-quality parts.
High-Quality New and Used Inventory
If you've also been trying to find a new or used vehicle, then consider our huge inventory. We carry the latest new Ford models as well as a variety of affordable used cars. Whether you're looking to save some money on your next purchase our want all the cutting-edge technology and features, you will be able to find what you're looking for with us.
Come to our location to discover great models like the Ford F-150, Focus, Fusion, Escape, Edge, and F-250. Whatever your driving preference is, you will have the variety and quality you looking for in a dealership.
Allow us to prove our commitment to your satisfaction by scheduling a service appointment today. We can't wait to show you the difference!
Your privacy is important to us.
Our Dealership takes your privacy seriously and does not rent or sell your personal information to third parties without your consent. Read our privacy policy.
Service Hours
Monday

7:30am-5:30pm

Tuesday

7:30am-5:30pm

Wednesday

7:30am-5:30pm

Thursday

7:30am-5:30pm

Friday

7:30am-5:30pm

Saturday

Closed

Sunday

Closed